In 2015, the first search result was clicked on 28.6%. The number has dropped to 23.5%. The landscape of digital marketing is dynamic and ever-changing. Top digital marketing trends and tactics to reach and engage the target audience, never stay stagnant. What worked two years ago may not work well this year. You don't want your business to fall behind your competitors. 
Hence, it becomes critical for companies and digital marketing professionals to stay up with new developments in the industry. One of the most effective ways to stay relevant is to keep an eye on marketing statistics and how the industry is evolving. Whether you into social media advertising, SEO, email marketing, video marketing, or content marketing, we have identified statistics and trends to help you reach your target audience and boost conversions. Let's have a look at recent trends in digital marketing and what to expect in the year 2020.
How effective are the top online marketing channels?
According to a report published by MarketingCharts, social media marketing was the most effective online marketing channel last year. However, the effectiveness and impact of content marketing are increasing significantly. Besides, local B2C businesses are focusing even more on local SEO for higher visibility in the areas they are serving. Let's have a look at what can change in SEO in the next three years.
How SEO is expected to change in the next three years
As the popularity of voice assistants such as Alexa, Siri, and Google Assistance is increasing, the amount of voice search is going higher. In the next three years, the importance and effectiveness of voice-based searches will increase even further, and websites will get the opportunity to gather more visits by optimizing their content for voice searches.
1. Social commerce and shoppable posts
60% of Instagram users use it to discover new products. In Pinterest, 70% of users find new products. By taking the help of social media to enable commerce, you'll be able to reach new users quickly, eliminate barriers to purchase, and significantly improve the sales funnel.

As shoppable posts are more effective in increasing the sales on social media platforms, B2C brands have started using it extensively. We expect shoppable posts to become one of the top digital marketing trends in 2020. Learn about how to create shoppable posts in the Instagram App.
2. AI-powered chatbots 
Thanks to AI (artificial intelligence) and ML (machine learning), chatbots have managed to come out of if-then-else conditions and have become more sophisticated and capable. Nowadays, chatbots can mimic some aspects of human behavior and handle complex queries such as recommending products.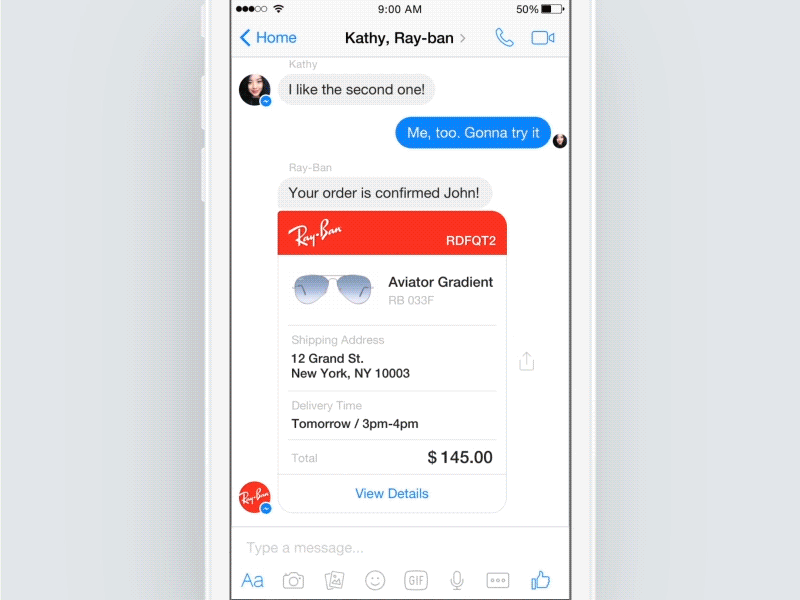 In the next year, as chatbots will continue to evolve, more brands and companies will implement a chatbot on their Facebook page and website. Some aspects of CRM such as customer service, will become even more efficient thanks to these new technologies. Hence, implementing chatbots is highly recommended.
Top tools for building AI-chatbot for Messenger:
MobileMonkey
ManyChat
You don't need coding skills to build a messenger chatbot for your brand. You can easily and quickly build a chatbot using MobileMonkey. Their builder tool allows you to create a chatbot by just doing drag-and-drop. You can also try ManyChat to build a messenger chatbot.
3. Zero-click searches and featured snippets
According to the top digital marketing trends of 2019, 1st position in Google Search is no longer the top spot. Experts call enhanced results and featured snippets as "zero-click searches" because these types of results rank above all the organic search results.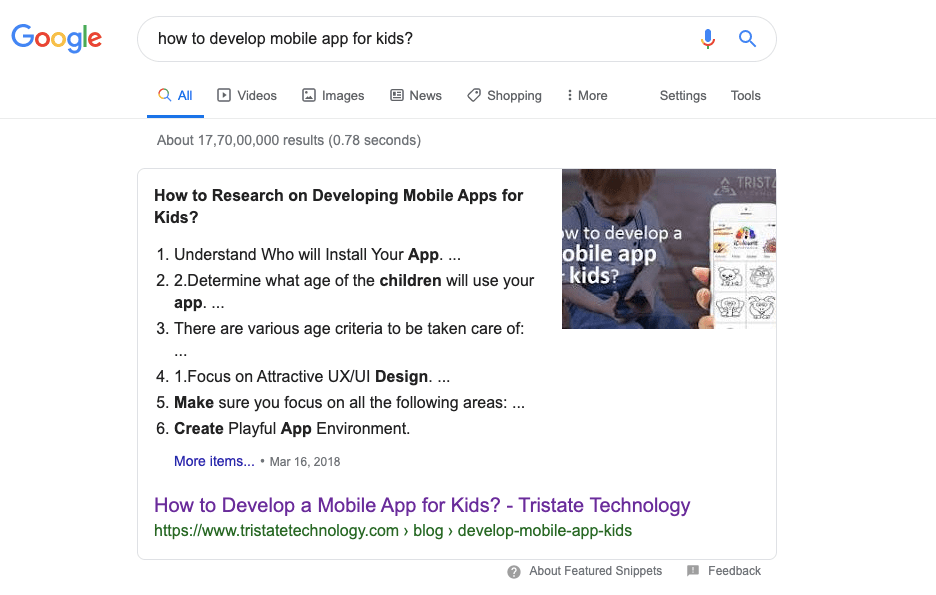 Enhanced search results will surely become one of the top digital marketing trends in 2020. Enhanced results can include the following types of search results:
Calculators
Maps
Definitions
Knowledge panel
Instant Answers
Featured snippets
Let's have a look at one more example of zero-click searches.
4. Video marketing on social media platforms
Videos are one of the most important ways to engage the audience and reach a higher number of the target audience. People prefer to watch an interesting video compared to reading a blog article or looking at static images. The cost of marketing a video on Facebook is ~10x lower than marketing a static image. 
According to Wyzowl, 68% of consumers prefer watching a video to learn about new products and services. It increased their confidence in making the purchase decision. Hence, short videos can help markets help market their products and services more effectively. Video can also be used for keeping visitors on-site longer and converting them into a lead. This also improves the customer experience.
Top video marketing tools:
Animoto
Filmora
Vidyard
Here is the list of tools which will help you start with video marketing and content creation. Animoto and Filmora can help you create and edit visually appealing videos. Besides, you can use Vidyard for video marketing and grab the attention of your audience.
5. Social media stories and live video
Stories and live videos allow you to communicate directly with your audience. Your followers may miss or ignore your posts as there are too many posts in their feed. However, one of the main advantages of live-videos and stories is they appear on the top of the all the posts, and visual elements around stories make the user click on it and check out the stories. 
The daily watch time for live videos has increased significantly. Live videos on social platforms keep your audience engaged 3x longer, and live videos generate 6x higher interactions compared to single posts. Hence, it is highly recommended to use both in your marketing plan.
Top social media tools:
Canva
Adobe Spark
Apart from built-in features of Instagram for creating interactive stories, Canva is one of the best and highly popular tool for creating posts, stories and other visual content for social media. You can also use Adobe Spark to create stunning social graphics and short videos.
6. Voice Search
Comscore (a media company) expects that by the year 2020, nearly half of all the search queries will become voice searches. Many 44% millennial and 55% Generation Z are using voice assistance as their go-to search mode. 19% of the iPhone users ask at least one thing to Siri.
Due to increasing popularity and use, marketing companies have started optimizing website content and blog article content for voice search. This gives them an edge in the era of voice search. Let's have a look at the real life statistics. 13% of voice search users order food by using voice assistant. Using smart speakers, 13% of people find local businesses and 20% people add items to their shopping list. You can optimize your website services page content and blog article content by increasing the use of natural human language and make your content answer queries.
7. Influencer marketing to reach your target demographic
Rather than marketing directly to your audience, you can use influencer marketing to get product mentions from influencers in specific domain such as beauty or clothing. They get the word out for you. Compared to other means of marketing, influencer marketing is more effective as people have a tendency to believe in what their influencers are saying.
According to statistics published by SproutSocial, influencer marketing delivers 11x higher return on investment compared to other means of digital marketing. For every dollar spent on Google AdWords, brands earn $2 which is 100% ROI. However, brands get Earned Media Value (EMV) of $11.69 for every dollar they spend on influencer marketing.
Staying familiar with top digital marketing trends is crucial
Social media platforms and search engines keep updating their platforms and introduce new features which give digital marketers and brands new opportunities to reach and engage with their target audience. With many developments, marketing continues to change at a rapid pace. Brands need to keep evolving and adopt new marketing methods to stay relevant and attract the high-quality audience in the digital world.
Was this article helpful? Share your thoughts in the comments!
I hope that this article about top digital marketing trends of 2020 was engaging, insightful, and helped you to understand the effects of changing the dynamics of digital marketing. If you liked this article, feel free to comment and share it with people who will benefit from it.
More and more quality articles are coming your way, happy reading! 
Share it!