I was sent a link to the Bajaj Electricals website and I clicked on it in quite a nonchalant frame of mind not expecting much. However, it proved to be Simplicity Exemplified while browsing.
The no nonsense, minimalistic, simple yet effective layout of the homepage itself is refreshing. It greets you with a rather patriotic feeling showing the National Tricolour and informing that the website has turned 20 years old on this Independence Days. This fact reveals a lot. It means that Bajaj Electricals had put a website way back in 1997 when very few Indian Companies had even considered having a digital presence.
What sets the design philosophy of the website apart is the attention to simplicity. Today, most of the many company websites we visit try to pack in too much on the home screen to in a bid to keep the person browsing engaged in a way or the other. The Bajaj Electricals site, on the other hand, achieves the same goal by turning that logic on its head by having an uncluttered layout and inviting the user to venture into any of the headers (neatly laid out vertically on a left panel rather than the conventional horizontal style). Neatly tucked in the footer section of the home page is a login link for users like employees, retailers, and distributors.
Another eye-catching aspect of the website is the use of brilliant and relevant pictures throughout the website. Most of the talking is done by the pictures with a minimal dependence on words which send the message home effortlessly. The color scheme is brilliant and really accentuates the corporate colors without being in your face about it.
I cannot mention the e-shop which serves as a brilliant catalog for the range of Bajaj Electrical consumer products. One is welcomed by a rather generous offer of a free coupon worth Rs. 500/- with discounts on most articles.
Normally, the B2B segments of most Brand websites are very bland and uninspiring. The Bajaj Electricals site, however, showcases their business verticals like EPC (Power Transmission, Distribution, and Illumination), Exports and Illumination in a very attractive fashion with great pictures doing most part of the talking.
Social media presence of BEL is appreciable which is borne out of a few statistics that I was able to collate using some analytics tools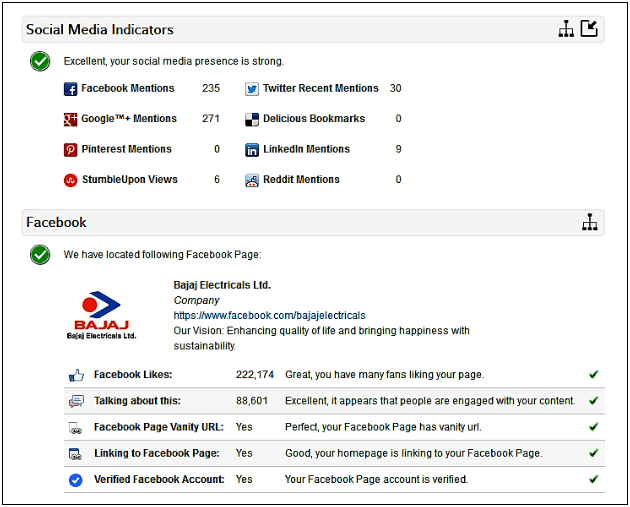 So go check it out @ www.bajajelectricals.com
Share it!