They say it's always about the Journey. But I think it's about the destination. The journey starts because I think to go to some destination…
From childhood I had a dream that one day I would own a "Royal Enfield" and that would be my #MotorcycleGoal. The day I bought my "Royal Enfield Classic 350" was the 3rd July 2011 on the auspicious day of "Rathyatra".
My first Royal ride was with "Ahmedabad Bikers Club". It was from Ahmedabad to Nalsarovar. The ride started the early morning at 4.30 AM from Ahmedabad. We were about 12-15 riders together for the ride to Nalsarovar.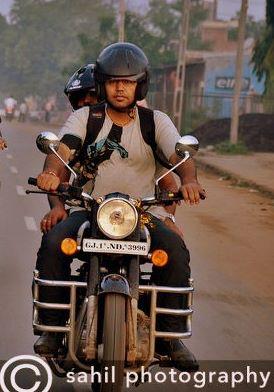 The one ride which was my favourite was the ride to "Little Rann of Kutch". It was around 100 km ride one sided. We were 150+ riders at #OneRide. We were riding in pairs of two motorcycles side by side. When we reached to the "Little Rann of Kutch" it was never ending land. We literally saw the Mirage. With this ride, I made so many friends who share the same passion as mine and one thing is for sure that Riders have no Religion. Riders are always there for support and help. #WhateverYourRide

A few days back I came across this video and I was inspired by it. In this video, the rider turns his passion into his career. This video contains all the things which I felt during all my rides.
That wind which hit my face during the ride, those cold waves passes through my skin. Those roads on which my bike sail through like a boat on the water. Those vibrations I feel in my hand when I accelerate my bike on those smooth roads. Those silent roads on which, I was alone with my bike. I ride with an empty mind in which no thoughts were running on my mind. Those sceneries at which, I looked with my naked eye. Those people with whom I now befriend with during the rides. They share the same passion as mine. Riding is just not the passion for me but it's a sensation for me too.
It is my #DreamRide to ride in the Leh, Ladakh.
Share it!