Hello Friends,
In a few easy steps, here's how you can import your blog (by the RSS feed) into a Facebook page (rather than profile).
How to import?
1. Go to your Facebook page (or create a new one here)
2. Click on the Notes tab in the top left hand corner (you may have to click on the plus sign to display it)
3. Select 'Write a new note'

4. Once you're in this window, you can access the Notes settings.
5. On the right-hand side of the Notes area, you can choose to import a blog.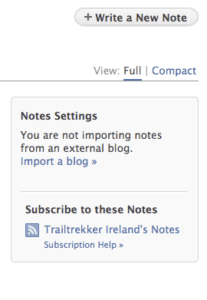 6. Copy and paste the location of your blog's RSS feed.
7. The page will then import your blog. After you have posted to your blog, the post will show up a little later in your Facebook page.
Why import a feed in to Facebook fan page?
If you are creating a Facebook page to promote your blog, importing the blog to the page means that all your blog posts will automatically appear on your Facebook page.
Example: Sharepoint Application Development
I hope it will be helpful to you.
Keep visiting for more updates.. 🙂
Share it!