Undoubtedly, in near future, businesses are supposed to lean more toward digital strategies and marketing. I don't want to sound too alarming, but those all businesses would suffer from marketing skills who would still believe in conventional systems. The post-COVID era would raise a barrier on face-to-face businesses inviting an unprecedented challenge; nevertheless, the only sure-fire way is to opt for free digital marketing tools in COVID19.
My personal encounters
As luck would have it, during my regular consultancies, I encounter visiting CEOs in offices. One such gentleman told me "Companies are in unforeseen troubles, but as we see an increase in working from home (WFH) with collaborating approaches, firms are now opting for digital marketing and even old companies are adapting the change," the experienced man continued, "Even I am receiving a lot of messages to update my corporate website and have more interactions online." Ultimately, we had quality time to discuss digital marketing post-pandemic, and he agreed to sign me!
There's no harm in using free digital marketing tools
A lot has been offered during COVID19 breakout, and many more free digital marketing tools will be added to a basket quite soon. As a digital marketing strategist, I'm often to list the top ones. With COVID19 lockdown, I am confined to my home and took some time to come up with the best ones available on the market. Here we go…
For communicating targeted audiences
Communication has always been a key to convey your business message to the clients or customers. Here are free digital tools available for communication –
This teleconferencing app has spread across all platforms of digital marketing or communicating. While keeping social distancing, this tool has managed to connect millions of people worldwide to discuss any matter through the audio-visual medium. The software offers one-to-one meeting as well as group video conferences. You can also share a screen of any type with computer audio plus your own voice; thus, it makes the best presentation tool among employees.
Hangout's better and bigger version is now Google Meet. This is another free digital marketing tool in COVID19 pandemic available for everyone who has Google account. Powered by Google's technology, this tool is kept simple to arrange meetings, training, and interviews on the go. Google is known for its simple user interface that renders the best user experience. Google Meet is one such step toward making online conferencing or meeting easier than ever before. If you don't like complexity in tools, this one is the game!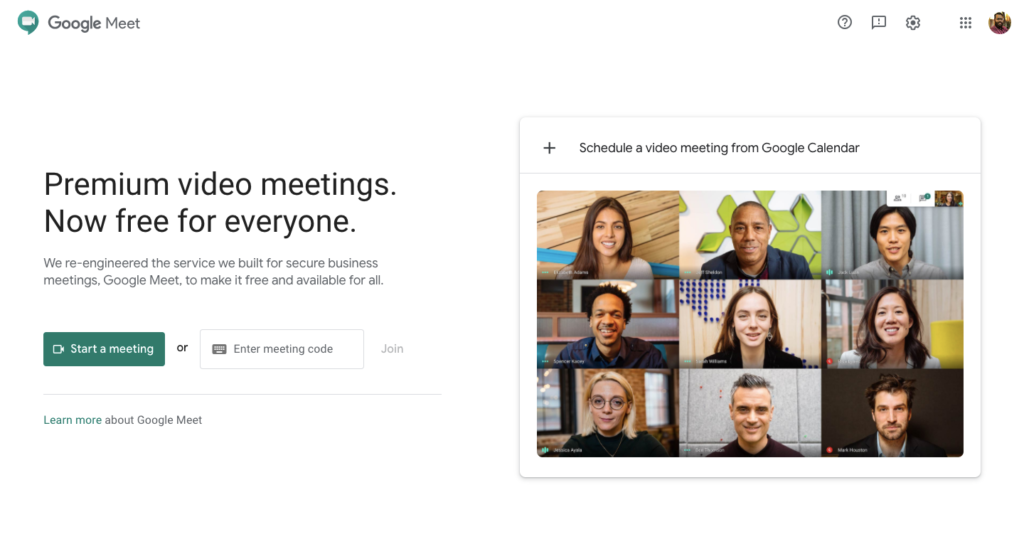 For free email marketing
A few free digital marketing tools in COVID19 directly target audiences and spread a word without any superfluous stuff. Here are they –
The tool offers free templates for questionnaires prepared by domain experts. By using such a tool, you can collect data or get valuable feedback from stakeholders or clients. You can also get inputs to better your business in COVID19 pandemic lockdown. With a free subscription, one can maintain 2000 clients' contacts and send 10000 mails a month (with 2000 mails a day as maximum limit). Besides, the tool also enables you to build a landing page and craft pop-ups that entice the visitors to subscribe on your website. The lead generation of this tool is quite easy and is one of the most effective free digital marketing tools.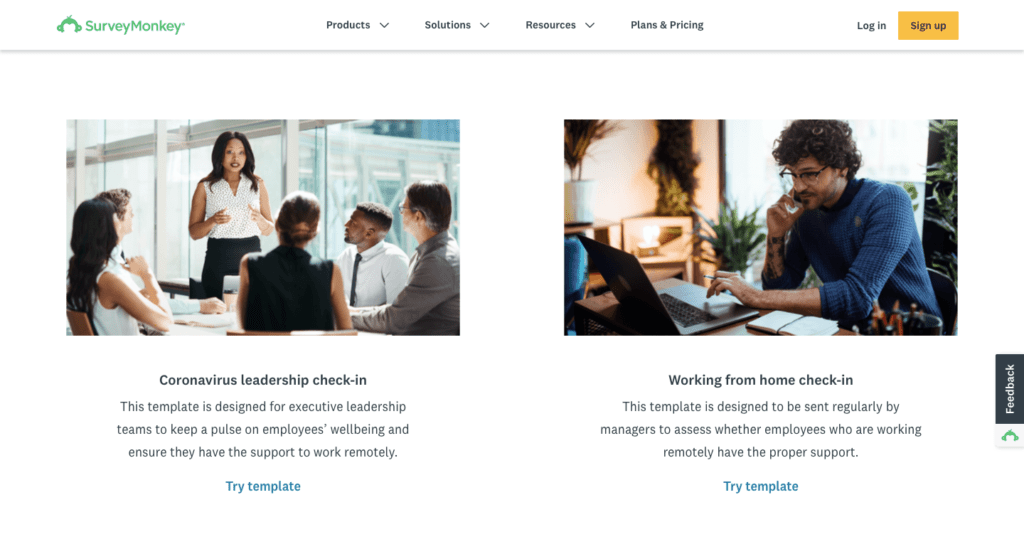 While MailChimp offers simplified GDPR compliance, Sender has its own merits. While the pandemic has forced everyone to opt for digital marketing, Sender can be an effective email marketing option as it too offers great features for free. One can list or manage 2500 subscriptions; more than MailChimp, Sender allows you to send up to 15000 mails a month. In addition, you can also utilize its powerful features such as web-push notification and responsive designs or templates to offer the same look-and-feel to targeted audiences.
Free tools for SEO
No marketing makes sense if it does not take your webpage or application to the higher ranking on search engines results. Typical to human nature, nobody bothers clicking the link on 10th page of Google! That said, here I list the best free SEO tools in COVID19 pandemic. Get great results by sitting home and relaxing!
Yoast
One of the renowned SEO tools on the market, Yoast Free offers optimized content so that you can convey your business messages to the targeted audience. Following the rudiments of best SEO practices, it analyses the content and marks it based on readability, the density of keywords or phrases, and outbound links. The tool also offers XML sitemaps that help search engine discover the web pages. Needless to say, free Yoast SEO tool comes with meta title and description, snippet preview, meta robot tags, canonical URL and social tabs.
The readability for the search engine bots highly depends on the keywords or keyphrases used in the content. The search engines don't like superfluous or verbose content and, therefore, your content should be rich in the keyword. Nevertheless, stuffing keywords with more density will rebound the content and will make it difficult for the bot algorithm to pursue. As a result, the webpage would be ranked much below on the SERPs (Search Engine Result Pages). This is the worst thing you can do with your business!
Mangools makes keyword search easier and interesting. What makes it a wonderful digital marketing tool in COVID19 pandemic is its categorization of keywords – competitive and non-competitive. This further enables your webmaster to optimize the page in significantly less time. The tool is broadly classified according to its usage – KWFinder, SERPChecker, SERPWatcher, LinkMiner, and SiteProfiler. Nevertheless, you get more power with premium services.
Tools for free stock photos
Pictures speak a thousand words -the age-old adage still stands true! The list will not be complete if I don't include stock photos as free digital marketing tools in COVID19 pandemic lockdown. A website without pictures or graphical presentation doesn't look lively, which, in turn, results in losing page-time per person. A visitor won't spend much time on the page looking at lengthier texts. Here is a couple of free stock photos websites for the year 2020.
If you are looking for high-resolution free photos, Unsplash has a lot to offer; in fact, it is one of the most popular sources for stock images on the Internet. Under the Unsplash license, most of the images are offered free for your use. You can choose from wallpapers, textures and patterns, real pictures, and digitally infused photos.
Burst by Shopify is for free stock photos for personal and commercial uses. It features popular categories right under the search that helps you understand the current trend. For instance, these days, due to COVID19 pandemic lockdown, you observe that photos for 'work from home,' 'video call backgrounds,' 'mobile background,' and 'online learning' and so on are quite popular. In addition, it also categorizes photos that are easy to find or browse.
Reshot is personally my favorite as it possesses a massive number of free-to-use photos that are unique and not found anywhere else. Whether you are an entrepreneur, freelancer, or running an MNC, Reshot has handpicked and non-stocky images. You can also search for images or photos by categories. The best part of Reshot is it does not require any attribution from you, and the photos can be used commercially for free.
Free tools for productivity
The WFH (Work from Home) policy has been on the rage these days; moreover, many giants, including Google and TCS, have seriously thought about offering WFH even after lockdown is withdrawn. This has led companies to go for online tools that measure employees' productivities. A couple of free digital marketing tools in COVID19 should include collaborative and productivity gauging tools –
The software giant offers free six-months to use Office 365 E1 (trial version) which includes Microsoft Teams. During the pandemic, the traditional working is strictly kept at bay, Microsoft, with its free tool of Teams, could enable your teams to perform a great job remotely. Without any ambiguity, experience the best of Microsoft in this COVID19 shutdown; enjoy modern collaborations and customized cloud workloads. The free trial is available with limited features.
For most of the companies, tracking project and escalation is of paramount importance, especially when employees are working remotely due to COVID19 pandemic lockdown. Access free to cloud products of Atlassian, including Jira and Confluence. Specially tailored to organizing plans, you can have access to Trello Business Class. It is very beneficial, especially if you are an educator at K12 or higher.
Free social media profile manager
For any marketing, you need to reach masses. Gone are the days when you only managed your ranking and visitors through keywords on the targeted landing page. The search engines' algorithms have changed and they give heavy weightage to social media. There is a unique tool to manage all profiles on Twitter, Facebook, LinkedIn, and Pinterest at one place.
One of the hurdles you face is the time zones in different regions and, furthermore, it is also possible that you don't have time to post on social media accounts frequently. SEMRush social media toolkit is available for free to manage all your accounts and you can schedule the post. In addition, you can also edit images, create posts while you browse, and above all, track the progress using UTM.
There are a lot more free digital marketing tools available in COVID19 pandemic lockdown. I am getting you a link to a spreadsheet where I have listed many more.
You can also contact me personally to know further about it. Alternatively, you may comment for any social media query.
Share it!