For businesses, SEO can be one of the most important ways of getting organic traffic. With the increasing number of websites and increasing competition, it is harder to rank for keywords you want. To make it easier for you, I have listed down Best tools for SEO you should use in 2020.
These tools will help you perform keyword research, audit your website, do competitive research, and many more thing. Let's get started with top tools for SEO.
1. Ahrefs: Website audit, keyword search, and backlinks
Ahrefs is one of the best SEO analysis tools in the market. The tool has second-fastest web crawler and comes with a simple user interface. You can use Ahref for competitive analysis, backlink audits, keyword research, and search result ranking.
It also provides search for your competitors' sites. The keyword explorer feature shows keyword difficulty and provides related keywords that will help you rank better.
Features:
Ranking History: See the ranking history a keyword used on your website.
Content Explorer: Do a content search within the Ahrefs database.
Monitor Links: See and track the number of backlinks and referring domains
Cons:
Price of monthly plans is expensive
Doesn't provide site speed report or technical SEO
Pricing:
Trial: a 7-day trial for $7
Lite Plan: $99 per month
Click on this link to get started with Ahrefs.
2. SEMRush: SEO, PPC, and competitive research
SEMrush is a competitor analysis tool that will help you evaluate your competitor's content. It provides metrics for top-performing pages, content, and keywords.
It comes with plenty of features for SEO, backlinks, keyword research, ad campaigns, PPC and SERP. The On-Page SEO feature will monitor your rankings and give you recommendations to improve the ranking.
Features:
Traffic Analytics: Track performance and traffic of your website.
Organic Research: See the top keywords used by competitors.
Product Listing Ads: See competitors' product ads and feeds.
Advertising Research:  Analyzing the ad budgets of competitors and run better ad campaigns.
Use SEMrush if you want to:
Perform keyword research for content
Analyze competitors
Track website ranking
Create guest blogging strategies
Perform technical SEO audits
Cons:
Price of monthly plans is expensive.
Newbies may feel that the tool is complicated overwhelming.
Pricing:
Trial: A free trial for 7 days
Pro Plan: $99.95 per month
Guru Plan: $199 per month with advanced features
Click on this link to get started with SEMrush.
3. Moz: SEO audits, rank tracking, backlink analysis,  and keyword research
Moz is one of the most popular and one of the best tools for SEO in the market. It provides lots of features such as rank tracking, site auditing, keyword research, and backlink analysis. It also provides suggestions for page optimization.
Moz also provides a web-browser extension named MozBar browser extension that provides SEO analysis and SERP information.
Features:
Rank Tracking: Track the rank of your site for traffic-driving keywords. It helps you boost traffic and ranking.
Keyword Analysis: Discover new keywords with SERP and competitor analysis. It helps with on-page optimization.
Backlink Analysis: Check Domain Authority and build new backlinks. It also provides link profile analysis.
Site Audits: Crawls all your webpages to find any issues or errors.
Cons:
It doesn't discover as many links as other tools.
The backlink database offers fewer features compared to other best tools for SEO.
Database and metrics are only available for the United States.
Pricing:
Trial: A free trial for 30 days.
Standard Plan: $99.95 per month.
Medium Plan: $179 per month with keyword research feature.
Click on this link to get started with Moz.
4. Google Search Console: Measure site traffic and performance
Google Search Console is an excellent way for newbie SEO professionals. This tool helps you measure the site's search traffic, and fix issues related to sitemap and indexing.
'Fetch as Goole' feature allows you to view the link in the same way as Google does; giving you an easy way to detect and troubleshoot poor SEO scores.
You can use 'PageSpeed Insights' feature to check the loading speed of your website on desktop and mobile devices. As the majority of people using smartphones to surf the web, optimizing your site for mobile devices is crucial to ensure that mobile visitors can access and remain on the site.
Pros:
SEO and data analysis
Security monitoring and organic performance monitoring
Audience targeting and Metadata testing
Cons:
Latest version lacks critical SEO functionalities
Doesn't provide competitor analysis
Pricing: Free of cost
Click on this link to get started with Google Seach Console
5. Ubersuggest: SEO audit, keyword research, and backlink checker
A few years ago, Ubersuggest was purchased by Neil Patel. Neil has invested significant money and effort to make this tool compete with other industry-leading tools. It tops the chart of the best tools for SEO if we only consider free tools.
Ubersuggest can be used for keyword research, finding long-tail keywords, and to discover new content ideas. It shows search volume, CPC and keyword difficulty.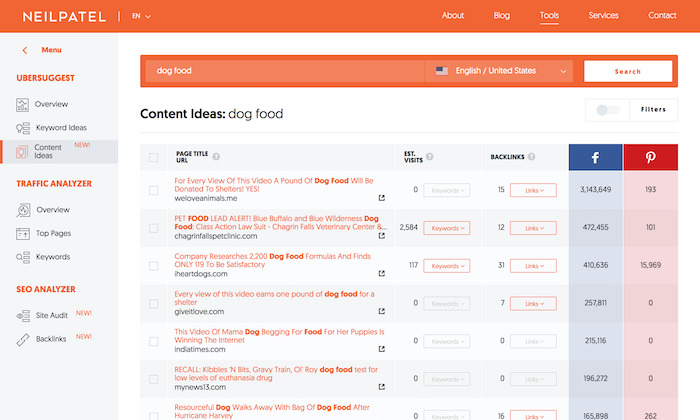 It also offers domain level traffic analyzer that shows you top-performing pages of your site and top keywords you already rank for. Besides, Neil Patel has also added website SEO audit and backlink checker as a bonus.
Features:
Content Optimization: Optimize the content of blog and website pages.
Competitor Analysis: Analyze which keywords are helping your competitors to rank better.
Keyword Suggestion: Discover keywords your target audience is using.
Website SEO audit: Perform an SEO audit of your website.
Rank tracking: Track your ranking for keywords.
Cons: Considering the fact that it is a free tool, there is nothing to complain about.
Pricing: Ubersuggest is free of cost.
Click on this link to get started with Ubersuggest.
6. GTmetrix – Website performance optimization
GTmetrix is a highly popular tool for checking the loading speed and level of performance optimization of your website. It helps you optimize the speed of your site with recommendations.
Features:
A summary of key performance indicators.
Test pages from multiple regions.
Save report data and export reports in PDF format.
Simulate devices and screen resolution
Cons:
Features are limited without an account.
It doesn't automatically check for CDN.
Pricing:
Free version: A free version with limited features.
Free account: A free account that provides a lot more options.
Bronze Plan: $14.95 per month.
In most cases, you will not need to purchase a paid plan. Click on this link to get started with GTmetrix.
7. WooRank – SEO Checker and SEO Audit Tool
WooRank website SEO audit and SEO strategy checker tool. It finds issues related to SEO on your website and gives you recommendations and action points to boost your SEO score.  This helps digital marketers, and agencies to boost website traffic, generate more leads, and achieve higher sales.
Features:
Extension: Free tool to perform detailed analysis of websites.
Site Crawl: Find and fix site indexing errors, eliminating content plagiarism issues, and track security issues.
Sales Tools: Create converting sales pitches and custom PDF report templates.
SEO Monitoring: Monitor website uptime, and traffic on landing pages.
Keyword Tool: Track keywords and monitor change in ranking.
Cons:
The process of adding pages to an advanced audit is a bit complicated for beginners.
Can cache things randomly.
Pricing:
Trial: A free trial for 14 days.
Pro Plan: $59.99 per month.
Medium Plan: $179.99 per month.
Click on this link to get started with WooRank.
8. Screaming Frog – SEO spider and crawler
Screaming Frog is considered one of the best tools for SEO to perform a site audit. This tool saves significant time of webmasters by quickly analyzing your website and provide insights faster compared to most other SEO tools.
Apart from crawling (or spidering) the entire website, this tool gives recommendations for link building and finds out errors and issues in your websites such as duplicate content, and bad redirections.
Features:
Identify redirect chains.
Find duplicate content and duplicate URLs.
Generate XML sitemaps.
Analyze your metadata and page titles.
Cons:
Does not provide an API for spidering
The free version isn't suitable for large e-c0mmerce websites.
The free version comes with limited features.
Free: Free of cost up to 500 URLs.
Paid Version: £149.00 per year with more features
Click on this link to get started with Screaming Frog.
9. SpyFu – Competitor keyword research tools for AdWords
One of the main features of SpyFu is competitor keyword research. It allows you to find the most profitable keywords used by your competitors. Besides, it shows organic searches and ad campaigns being run by your competitors.
Features:
AdWord Adviser: Suggests new keywords based on the campaigns run by your competitors.
Keyword Spy Tool: Find out keywords used by your competitors and traffic they have received from those keywords.
Keyword Grouping: Helps you improve your SEO strategy by showing AdWord keyword groups of competitors.
Competitor Monitoring: Track PPC strategies of your competitors.
Cons:
Sometimes shows inaccurate data.
User-interface is complex for beginners.
Pricing: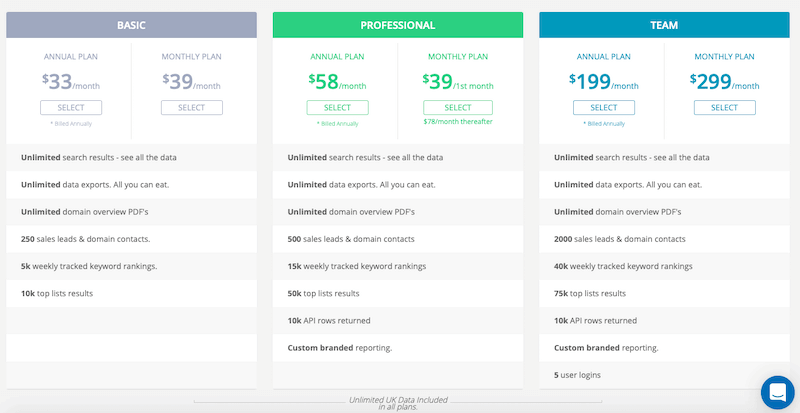 Click on this link to get started with SpyFu.
Many best tools for SEO comes with free features or trials you can play with
They're definitely going to help you better understand how you can improve your website's optimization but they won't do the work for you. You're going to have to put in the work to get the results you want. That means producing content that's SEO optimized, rewriting all your manufacturer descriptions and turning them into something that suits your niche and taking what you've learned from these SEO tools and making adjustments
Are you planning to become a digital marketing consultant?
If you are planning to develop your career into the digital marketing domain then, I highly recommend you to have a look at the detailed guide that will help you to become a digital marketing consultant.
Do you want to attend various digital marketing events and conferences? Click here to read about top upcoming digital marketing conferences.
Share it!